E.g. the parcel is damaged or an item is damaged, the order has not arrived in full or as posted or is defective.
We naturally want you to be satisfied with your shopping experience at Walser! This includes not only the order as such, but also the quality of our products. Unfortunately, it can happen that something is not as you or we expect it to be. For example, if items have been damaged in shipping, or if the order is incomplete or faulty, please contact us.
The same also applies if you are not satisfied with the quality of the product or if the product is defective. Despite constant quality controls, it is unfortunately not possible to completely avoid the occasional item that does not meet your or our quality standards. This annoys us the most and we ask you to contact us immediately. We will find a solution!
In the case of defective items, we ask you to send us a photo of the sewn-in label, which looks like this: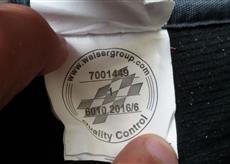 This label is sewn into the inside of the product. This helps our quality department to better understand which batch your product comes from.